Everyday with Rachael Ray - August 2008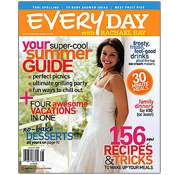 Everyday with Rachel Ray continuously features yummy recipies and fun cooking tools so we were thrilled when they wanted to include our mini grater in their August 2008 segment Small Wonders.
"Kitchen tools are taking a turn for the tiny. - Laura Neilson. Palm one of these itsy-bitsy graters to quickly zest a lemon or grate up a garlic clove. Or take it to the table for shaving chocolate squares over dessert."
Mmmmm!