FIRST For Women - January 18, 2010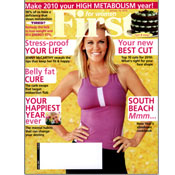 The new year is a great time to start thinking about a new you. But no matter how motivated you may be to start that new exercise regimen, keeping it up will be difficult if all your equipment is buried. In this issue of First For Women, learn how to keep your workout equipment organized and ready.
"Home-gym headaches cured! Open the door to genius ideas that'll get you (and your closet) in shape." Repurpose a 12-pocket shoe bag into storage for your hand weights, jump ropes or hand towels. Mountable wire baskets can corral workout DVDs or grooming supplies.