FIRST For Women - July 2009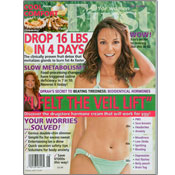 We were proud to be featured in FIRST Magazine's "Patio Party - Perfected" Clutter Busting article!
"Guest-Proof Your Plates. Guarantee chip-free plates with an office essential: a wire file sorter. Intended for a desktop, its coated vinyl construction cushions plates, eliminateing the risk of nicks and chips even at the hands of your least grateful guest."
"Keep Snacks At The Ready. Cribbed from the kitchen cabinet, a two-tiered shelf triples the storage space in a cubby. It's ideal for side-lining those bowls of snacks that you'd like to keep away from the elements. (Think random gusts of wind and the sun's harsh rays.)"