FIRST For Women - June 2009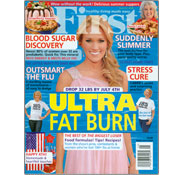 The June 2009 issue of First Magazine featured an article entitled "Summer Entertaining Made Easy" that showed us clever ways to keep your next cookout organized and hassle-free.
"Ensure No-Fuss Refreshments. Guarantee cold drinks for the crowd with a duo of step cans. Even when packed with ice, each (44 quart) container holds dozens of cans and bottles. and with a lid that opens smoothly with a press of the pedal, guests can help themselves with ease."