Good Housekeeping - February 2009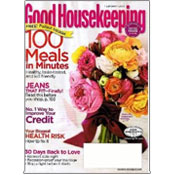 Our customers love the practical and versatile nature of our Dream Drawer Dividers so naturally, we were thrilled when Good Housekeeping called us wanting to feature it in an article about organizing your lingerie drawer.
Spring loaded drawer dividers are adjustable and will not slip or slide around! Drawer dividers snap right into place!
Fits Drawers 12" - 18" Deep
Set of 2 dividers
Dimensions: 4"H x 2.75"W x 11.75"-18.25"D
Dream drawer organizers are also available in a shorter version, perfect for organizing kitchen drawers.