Woman's World - August 2009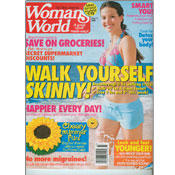 We love our card caddy key chain and were more than happy to have Woman's World feature it in their August 2009 issue:
"Cut time and clutter by corralling loyalty cards! Use this keychain caddy - chances are, you have loyalty cards at two different stores - maybe four or five. And those can cause a lot of clutter in your purse, wallet or on your keychain. To the rescue: the Card Caddy keychain, a special "hideaway" clip for all of them! And it's easy to find just the right card when you need it."