YHC - Your Health Connection - August 2009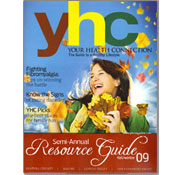 SpaceSavers was a proud participant in the September 2009 YHC Shopping Corner featuring our Card Caddy Key Chain.
"Feel like you're always shamefully thumbing through your mound of reward cards at the check stand? Thanks to the Card Caddy Key Chain, you can now have a hassle-free checkout. The keychain has a hideaway clip for all your cards, creating one organized stack."